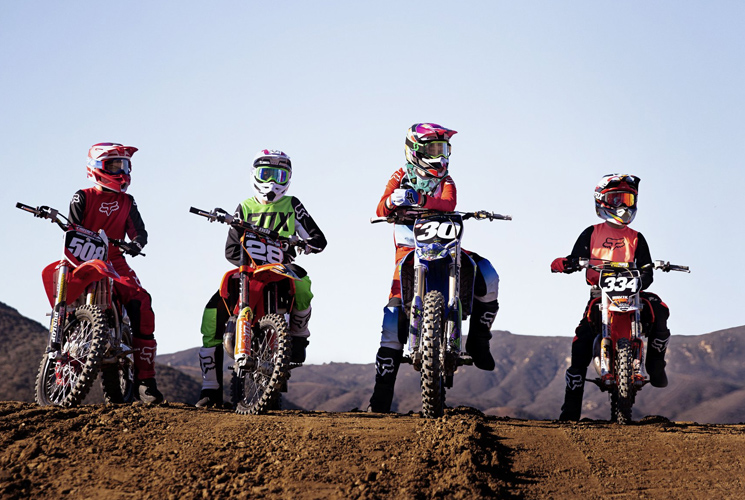 Motocross enthusiasts, check out our FOX and HUSQVARNA Motocross gear  and start the season off right!
1. Helmet
Helmets are the most important item for a dirt bike rider! First off, riders are legally required to wear a helmet in order to practise their sport. This item is very likely to save your life or reduce the injuries in the event of a fall.
Motocross helmets come in different shapes, colours, styles and levels of protection. Most of them are equipped with a removable visor to help you fight the sun rays and reduce whiplash in case of a fall.
The best helmets are also equipped with efficient ventilation systems in order to help you breathe on the hottest summer days and have a bit of protection against the strongest wind.
Riders should not be afraid to splurge on their helmet. It might be the single most important item on you when you ride. Fox helmets prices vary from $200 to $600.
2. Goggles
Goggles are another vital component of motocross safety. You are likely to encounter many hazards on unpaved and natural surfaces that might hurt your eyes. Bikers wear goggles to protect their eyes from dirt, debris, tree branches and the sun.
Different lenses for different needs. Depending on the conditions you are riding in, you will want anti-fog or glare-reducing lenses.
3. Boots
The only reason to wear dirt bike boots is because they are safer than most footwear. They protect your ankle when you are driving at full speed as well as your foot if ever it gets caught between the ground and the foot peg. Dirt bike boots also protect your calf from touching the hot engine parts and getting burned. They protect your shins from impact when you crash.
They also contribute immensely to your "cool factor"!
4. Guards
You must protect your body from serious injury. A fall on a dirt bike can result in a number of potentially fatal injuries. That's why you will want to equip yourself with knee, elbow and kidney protectors.
A chest protector also offers sturdy foam padding to minimize any impact to your heart or other major organs. Most chest protectors also offer additional support to the rib cage.
5. Gloves
Lightweight and flexible gloves are not just a stylish addition to your riding outfit. They provide a good handlebar grip and reinforce the thumb. Fox offers a wide variety of colours, patterns and styles to choose from.
---
There are many other accessories that riders enjoy wearing for their trip. Check out Fox's website  and HUSQVARNA's website and see all the helmets, gloves, boots, goggles, pants, jerseys, casual wear and much more that we have available at Pete's Sales & Service.
For any questions you may have on proper rider apparel, contact our team at Pete's Sales & Service. Our experts will be pleased to help you find everything you need.